Dream High
DETAILS
Title: 드림하이 / Dream High
Genre: School, romance
Episodes: 16
Broadcast network: KBS2
Broadcast period: 2011-Jan-03 to 2011-Feb-28
Air time: Monday & Tuesday 21:55
Production Companies: KeyEast, JYPE, and CJ Media
Producer: Bae Yong Joon, Park Jin Young
Screenwriter: Park Hye Ryun
Director: Lee Eung Bok
Cast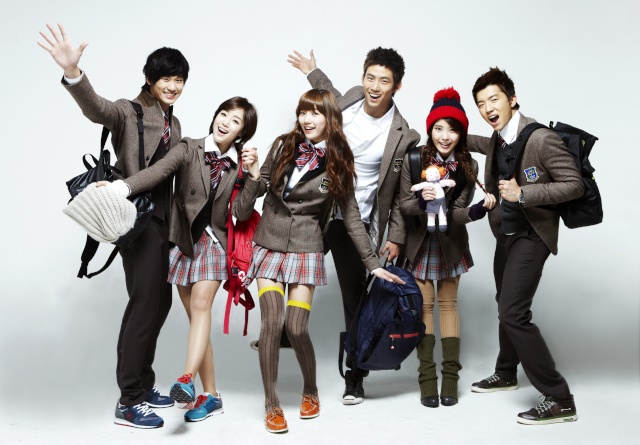 Kim Soo Hyun
plays Song Sam Dong, a young man who lives in a small town and dreams to have his own farm since he was a child. One day, he meets a Seoul girl named Hye Mi and he falls for her at first sight. Sam Dong follows her to the Kirin arts high school, where he discovers his hidden talent in music and starts his path to becoming a star.
Taecyeon
plays Jin Guk, whose real name is Hyun Shi Hyuk. He was left in the orphanage by his single mother at a young age. Shi Hyuk was then adopted by his paternal grandfather Hyun Mu Jin, who is also a rich businessman and CEO. Shi Hyuk was not happy in that household and was treated like an invisible person, so he decides to start a new life with the name Jin Guk. He gets recruited by the chairman of Kirin Arts High School who had noticed his talents in becoming a world star.
Suzy
plays Go Hye Mi, a rich and beautiful arts student who is rude and is used to be the best at everything. When her father's business fails, Hye Mi is forced to give up on vocal training and pursue an education at the Kirin to become a pop singer, which she previously thought was crude and shallow. She is also the love interest of Sam Dong and Jin Guk.
Ham Eun Jung
plays Yoon Baek Hee, a close friend of Hye Mi who doesn't mind being her number two. She is often ignored by those around her, even her mother. Baek Hee then follows Hye Mi to audition for Kirin. There, she transforms from Hye Mi's follower to a confident girl and discovers her own dream. She will later become the biggest rival of Hye Mi.
Wooyoung
plays Jason, an aspiring dancer who has just came back from New Jersey and enter the Kirin Arts High School. Although Jason ranked first in the auditions, he has no interest in competing with others; he only enjoys what he is doing. He admires Pil Suk's singing talent.
IU
plays Kim Pil Suk, a bright and cheery girl who is often teased about her chubbiness and her "ugly face". Her impressive vocal skills leads her to Kirin where she can pursue her dream as a singer. She falls for Jason right away
English (Hard)Subs
Kimchi Drama
Entertainment Blogspot